Baked Beans – Volume 3
Life Aboard USS Boston CA-69
by Steve Kelly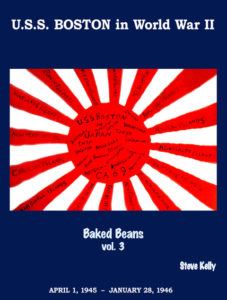 Size: 8.5 x 11″ 174 pages
Price: $17.95
Baked Beans (Life Aboard USS Boston CA-69) is a three volume follow-up to A Bird's Eye View – the story of the heavy cruiser USS Boston and her exploits during WWII in the many battles against the Empire of Japan. Volume III relates the events from April 1, 1945 through the end of January 1946 when the ship returned to San Francisco, CA. During this period, the Boston participated in the final engagements against Japan, and the lead-up to the Surrender.
The Surrender (Sept. 2, 1945) did not represent the end of the story for the ship and her crew. The men were assigned post-War demilitarization (Occupation Duty) duties, spending an extra six months off the shores of Japan. Readers of this book will meet, for the first time ever in print, Marine Major Norman C. Bayley, commander of the ship's Marine Detachment. He was asked to gather intelligence on the ground hours after the bombs went off in Hiroshima and Nagasaki – the first American in. In Norm's own words, he tells of his "forage" into enemy territory – bristling with soldiers and thousands of wounded civilians. Readers will also see diary entries, first hand accounts from men who were there, official documents and declassified photos from the National Archives.
Autographed Copy
Order Baked Beans Volume 3 directly from the author and he'll autograph it for you before he ships it. Charge your purchase here using the secure PayPal site. You may use your credit card or your PayPal account.
Order Volume 3.
Special Deal
Order all three Baked Beans volumes directly from the author, and he'll autograph them, take a little off the price, and pay for the shipping!
Order all 3 Volumes and save.